How does using a Railcard work?

Get your Railcard

Buy your discounted train tickets

Have your Railcard with you when you travel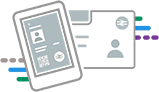 Eligibility and terms of use
Buy a Railcard and keep it with you when you travel (on your phone or wallet)
Save on most tickets including Advance tickets
For UK Veterans who served at least one day in Her Majesty's Armed Forces or Merchant Mariners who have seen duty on legally defined military operations
Need help getting or using your Railcard?
Need help? Can't figure out what card to buy? Or just have a question?
Can I use my Veterans Railcard at any time of day?

Can I use my Railcard for tickets for travel on the London Underground?

How quickly will I get my new Veterans Railcard?

Can I use my Railcard to buy tickets for other people?

Can I buy a Veterans Railcard for another person?